Businessman, Wale Jana, believes that the true test of a man's love for his wife comes when he has finally made money.
In a post shared on his Instagram page, he said a person would never know if he's a faithful man or loves his wife until he has made money. He stated in his post that if a person has millions and still loves and respects his wife, then he's an honest man. He averred that cash changes men and it's the most important threat to a person and his marriage.
His post reads
"Today i'm talking about the threats to your marriage. one among the most important threats to your marriage is money.
You don't know if you're a faithful man or if you're keen on your wife till the cash comes. If you've got millions and you continue to love and respect your wife you're an honest man.
Money changes men, it's the most important threat ever to him and his marriage. If he doesn't have any sense he will marry another wife or treat his wife badly.
Don't be a fool o, if she was there during difficult times, she must be there when money comes. She is tested and trusted and that's rare to seek out . The slay queen everywhere you'll drop you wish a hot plate the day you can't pay bills o, she wasn't built to suffer with you!
If you're already misbehaving because money has come, bros, someone has got to clear you, you are doing de lose guard, you've got to comport. Know your weakness and manage it so it doesn't destroy something good.
May you receive this knock of sense in Jesus's name.
Please share in order that others are often blessed as you're blessed."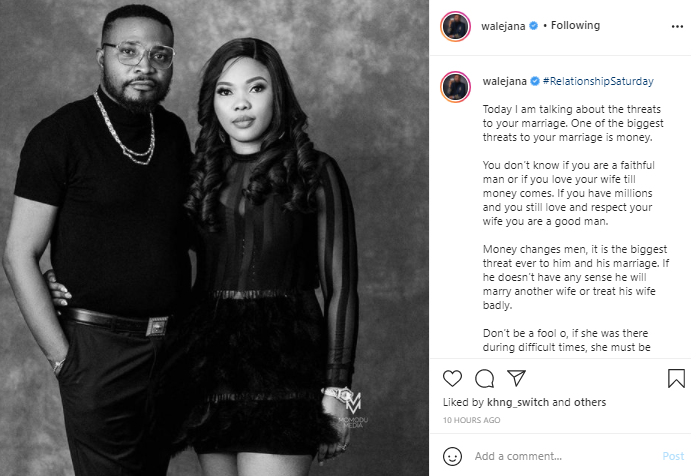 Upload Your Song